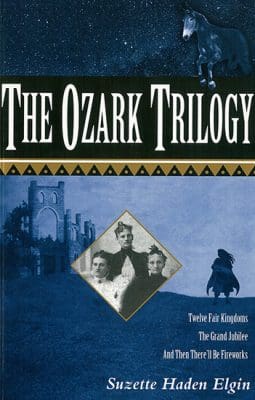 Clint Schnekloth will discuss Suzette Haden Elgin's The Ozark Trilogy at noon on Wednesday, September 15, 2021 for our virtual monthly Shiloh Sandwiched In series. Elgin's science fiction series is based on the Planet Ozark where Granny women play an important role in society and where Ozark traditions mix with science. Readers follow the heroine, Responsible of Brightwater, as she tries to save her world from evil, civil war, and alien invasion. Visit The Encyclopedia of Arkansas for more about both Elgin and the history of this book's publication.
Speaker: Clint Schnekloth
Schekloth is the pastor Good Shepherd Lutheran Church in Fayetteville, Arkansas. Clint is the founder and chairman of the board of Canopy NWA, Arkansas' refugee resettlement center. A regular contributor to The Christian Century, Clint is author of Mediating Faith: Faith Formation in a Transmedia Era. He blogs at Patheos, and he can be found running the trails or DMing sessions of Dungeons and Dragons with the kids.
This virtual program is Wednesday, September 15, 2021 at noon. The event is free but registration is required. The event is limited to 100 people. Register on the form below. You will receive a confirmation with the login information and another email reminder just prior to the event.
Elgin's The Ozark Trilogy