See how people cooked before the advent of stoves and microwaves with Dutch Oven Cooking Near the Buffalo from 4:30 to 6 p.m. Saturday, September 17, at Campsite 5, Steel Creek Campground, near Ponca.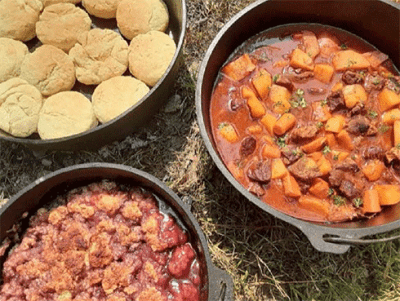 Ozark settlers needed fire to cook for their families. A Dutch oven allowed for baking by placing hot coals on top and underneath it, providing a uniform heat. This demonstration will be led by Judy Costello, Education Manager for the Shiloh Museum.
Dutch Oven Cooking Near the Buffalo concludes our Shiloh Summer Series: Buffalo River Country in honor of the 50th anniversary of the Buffalo National River's national designation and our own exhibit, Ken Smith's Buffalo River Country, which is on display at the museum through the end of the year.