IN-PERSON AND ONLINE EVENT
Wednesday, June 7, 2023
6:30 p.m.
Shiloh Museum of Ozark History grounds, 118 W. Johnson Ave.
Springdale, AR 72764
Admission: free
The Shiloh Museum's Not Strictly History series presents Woodworking at Home by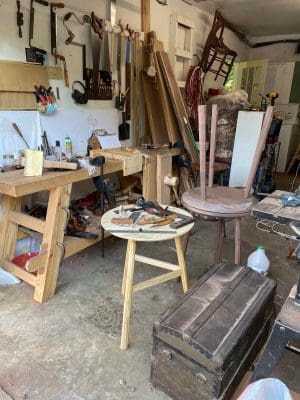 accomplished furniture maker Danny Baskin at 6:30 p.m. Wednesday, June 7, on the Shiloh Museum grounds. He will talk about refurbishing and utilizing historic woodworking tools and his process for creating historically inspired period furniture. He will also demonstrate various traditional woodworking techniques and bring examples of his furniture.
Baskin, whose work is featured in Ozark Home, Beyond the Frame joint exhibits in partnership with CACHE, is an artist and woodworker who focuses on historical craft, often using Judaica, feasting traditions, and mysticism as inspiration. With a background in drawing and conceptual sculpture, Baskin's work has shifted over the last few years to focus more on researching bygone methods and designs, which he recreates and reimagines using local wood, simple tools, and historically accurate processes. Baskin says his practice is not based in a blind reverence for things of the past, but rather a method to more clearly see how things can be done in the present, with a focus on sustainability, local community, individuality in design, and joy.
A Northwest Arkansas resident, Baskin co-founded FEAST gallery in 2016 and currently works as Museum Manager for 21c Museum Hotel in Bentonville while running a furniture business from his home. In the past, he has worked as lead curator, project manager, and creative facilitator for multiple nationally respected art institutions and organizations, and his writings have been published in numerous catalogs, regional art publications, and didactic materials. His conceptual work has been shown most recently at the Historic Arkansas Museum in Little Rock and COOP Gallery in Nashville, Tennessee.
This in-person event is also available for viewing live online. Please note this free online event is limited to 100 participants. Registration is required. After you register, you will receive an email confirmation with a Zoom link to join the event.
The presentation is sponsored by KUAF 91.3 Public Radio.