Thursday, March 30, 2023
7 p.m. to 9 p.m.
Tickets: $15 for individuals ($10 for Shiloh Museum members); $90 for teams of six players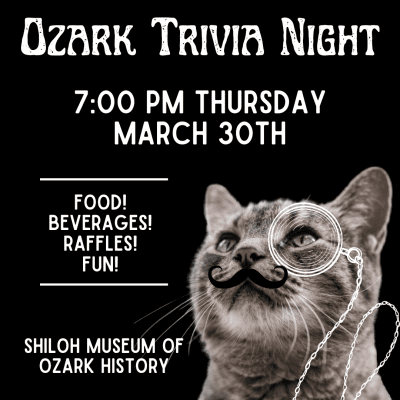 Do you know the elevation of Centerton? Do you struggle when asked in which county Little Flock resides? The Shiloh Museum of Ozark History presents Ozark Trivia Night at 7 p.m. Thursday, March 30, when experts and novices alike can unite for some friendly competition, and where the right answers win points and the wrong ones entertain.
Participants can enjoy a locally crafted beer, wine or cider and be eligible for prizes for best themed tables and raffle drawings. Teams and individuals are welcome!
For details and to register, click here.
Ozark Trivia Night is sponsored by KUAF 91.3 Public Radio.