Friday, June 9, 2023
1 to 3 p.m.
Shiloh Museum of Ozark History grounds, 118 W. Johnson Ave.
Springdale, AR 72764
Admission: free, but registration is required.
Grab a paintbrush and take part in Portraits of Home, a free watercolor house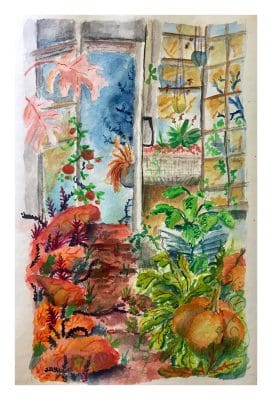 portrait painting workshop for children and adults from 1 to 3 p.m. Friday, June 9, on the Shiloh Museum grounds. Sarah Myane, an architecture student at the University of Arkansas, will walk through the process of painting home portraits. Paint an image of a building on the Shiloh grounds or bring a photo for inspiration. Each participant will take home an 8-by-12-inch watercolor home portrait. All materials will be provided by the museum. Registration is required and limited to 35 people. The event is now full and registration is no longer available.
Painting shown here is by Sarah Myane.
The event is part of the Shiloh Summer Series in relation to our current exhibit, Ozark Home, Beyond the Frame, which is on view at the museum through the end of the year.