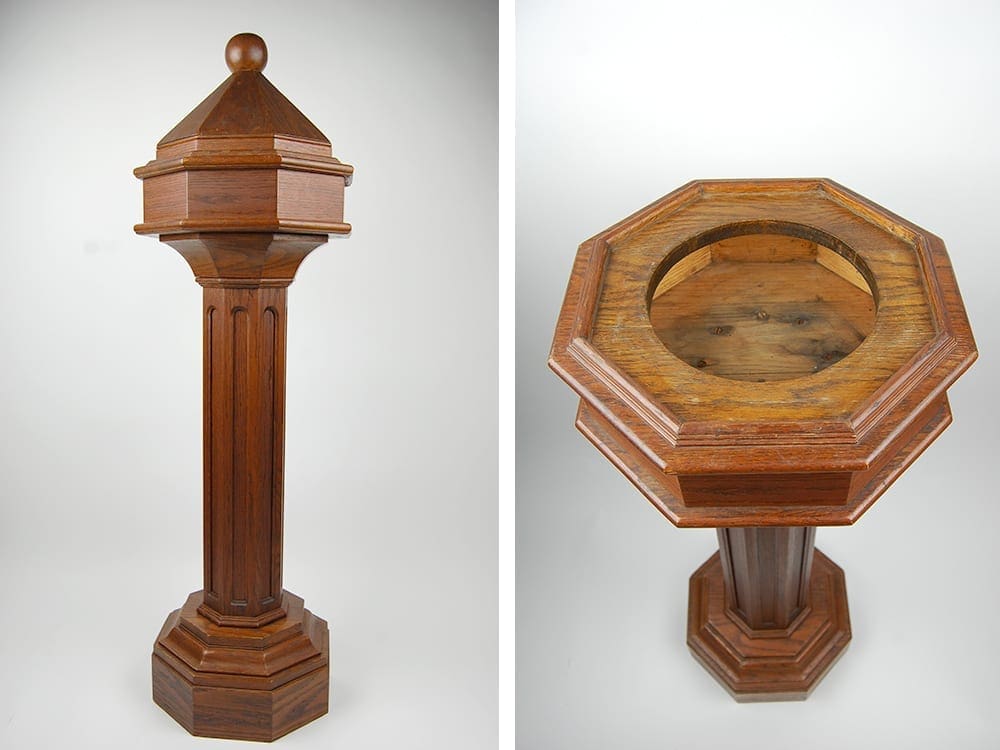 Donated by Patricia Laird Vaughan
This free-standing wooden font originally included a metal water basin housed underneath the font's conical lid. Water from the basin was used to perform the rite of baptism using a non-immersion method—by sprinkling, pouring, washing, or dipping.
In the early to mid 1900s, the Madison County town of Kingston was part of an outreach effort in the Appalachians and the Ozarks to improve the religious, social, and cultural life of mountain folk. In 1916, Rev. Elmer J. Bouher came to Arkansas from Indiana, tasked by the Presbyterian Church in the U.S.A. to revive an abandoned mission in Kingston. Construction of a New England colonial style building for the Kingston Community Church was completed in 1926, a project of the Board of Missions of the Presbyterian Church and the Brick Presbyterian Church of Rochester, New York.
In its heyday, the Kingston Community Church complex included a school, hospital, and community hall complete with a library, stage, bowling alley, kitchens, locker room, and showers. Interest in the project waned in the late 1930s, and the Board of Missions withdrew financial support in 1943. The owner of the buildings and property, the Brick Presbyterian Church, experienced financial difficulties in 1950. They decided to sell off all their mission holdings and offered the Kingston community the opportunity to purchase the land and buildings. Due to the poor condition of the properties the school board decided to construct a new school instead. The church was torn down soon thereafter.
In 1998, Patricia Laird Vaughan purchased the Kingston Community Church's baptismal font at the Bunch Grocery Store auction in Kingston. Founded in 1880 by Joel N. Bunch, the store was located on the northwest corner of the Kingston square. It remained in the Bunch family for generations, serving the community as a center of commerce and later, a popular local gathering spot. The last storeowner, Hugh Bunch, died in 1995. At that time the Bunch Store closed; its contents were sold at auction in 1998. The building was purchased by Joel L. Bunch, great-grandson of the store's founder, Joel N. Bunch.