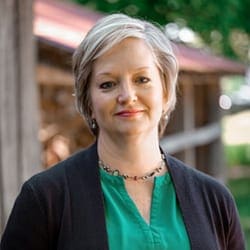 Angie Albright
Director
Angie was born and raised in Iowa, but has called Arkansas home since 1987. She loves history, something inherited from several generations of history lovers. She was an English professor for many years before leaving academia for the nonprofit sector. She loves to travel and experience new places, whether they are major museums or humble back roads. She is mom to one grown son who inherited her love of travel and anything with melted cheese. She's active in the community and serves on several nonprofit boards, including the Arkansas Museums Association, Fayetteville Historic District Commission, NWA Food Bank, Women Lead Arkansas. She also volunteers for Single Parent Scholarship Fund of Northwest Arkansas and Arkansas Advocates for Children and Families. Angie is fond of saying that "everything is interesting," and she is rarely without something to read in her hand. Contact Angie.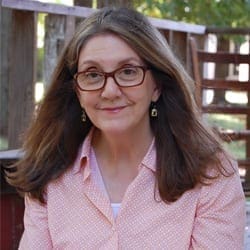 Carolyn Reno
Assistant Director/Collections Manager
Carolyn has been the collections manager since 1984. As caretaker of the museum collections, her duties include researching, cataloging, cleaning, and storing objects, as well as overseeing maintenance of security and HVAC systems. Carolyn grew up in Michigan and moved to Northwest Arkansas in 1976. She has an undergraduate degree in art but her interest in history, antiques, and a museum studies class with Peggy Hoffman at the University of Arkansas, led her to the museum field.  She enjoys all aspects of her job which explains her thirty-plus years at Shiloh Museum. Outside of work, Carolyn enjoys movies, quality and not-so-quality television, reading, gardening, baking, and yoga, just to name a few interests. Contact Carolyn.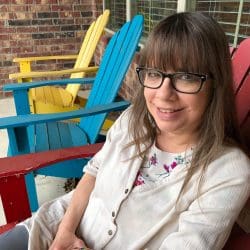 Sandra Cox Birchfield
Communications and Marketing Manager
Sandra grew up in Fayetteville and spent several years as a newspaper writer and editor. As a journalist, she discovered a love for Arkansas' history and was even fortunate to witness some of it as it was happening. In her spare time, Sandra enjoys watching documentaries, writing, photography and researching local musicians of yore. She and her husband may be found spending their days off visiting area small towns, partaking in the local cuisine, and looking for both thrift store and flea market treasures. Contact Sandra.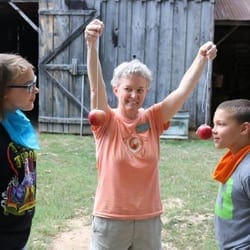 Judy Costello
Education Manager
Judy grew up learning and living Southern history through her family's exploration of Civil War battlefields, swimming holes, potential duck-hunting sites, and old cemeteries where ancestors were buried. Her education includes degrees in agricultural engineering from Auburn University and LSU. She moved to Fayetteville in the 1980s with her husband who is a professor at the University of Arkansas. She invested many years homeschooling her three children, all of whom are now UA graduates. Over twenty years ago, in the process of seeking hands-on learning opportunities for her students, she discovered the educational gem that is the Shiloh Museum. Interests include outdoor activities, working with children, and learning new things. Contact Judy.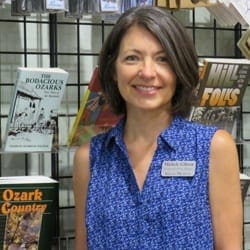 Michele Gibson
Volunteer and Store Manager
Michele is a self-professed "Okie from Muskogee."  After graduating from Oklahoma State University, she raised three children (Sarah, Ben, and Rachel), lived in Fort Smith, and worked at the Fayetteville Public Library before moving to Springdale. Michele's hobbies include reading, hiking, cooking, and gardening. Contact Michele.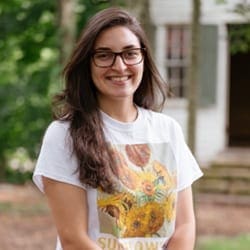 Kim Hosey
Education and Visitor Services Manager
Kim was born and raised in Texas, but when she moved to Arkansas to attend the University of Arkansas she fell in love with the region's culture and history and decided to stick around. She started out majoring in biochemistry since she had a passion for science, but then realized that she mostly had a passion for the history of science. She changed her major to history, and the rest is, well, history! In her spare time, Kim loves to read, watch movies, and be active in any way. Contact Kim.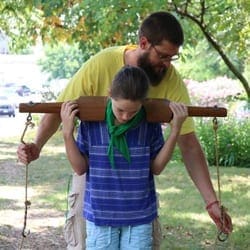 Aaron Loehndorf
Grounds Curator and Collections Specialist
Aaron grew up in the Midwest exploring various historical sites. Splitting time between education and collections allows him to interact with amazing artifacts and still pass on his passion for history to younger generations. His interests include history and a multitude of outdoor activities. Contact Aaron.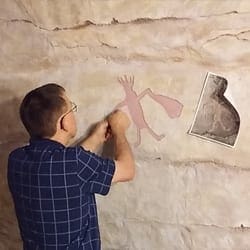 Curtis Morris
Exhibits Manager
Curtis has worked at the museum since 1998, first as collections assistant and currently as exhibits manager. His responsibilities include designing and constructing permanent, temporary, and traveling exhibits, as well as fixing stuff. A second-generation University of Arkansas alumnus, he has a BA in history and an MA in anthropology, both from UA-Fayetteville. Outdoor activities, water sports, vintage vehicles, and home improvement projects keep him out of trouble. If it has wheels, flies, floats, or shoots, he's into it—the older the better. Currently he resides "out by the lake" with his four gals (spouse, two daughters, and loving labrador). Contact Curtis.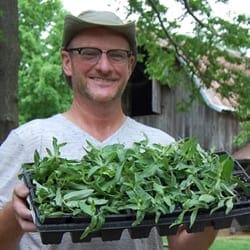 Marty Powers
Maintenance/Grounds
A native of Fayetteville, Marty has deep roots in Washington County: his Mhoon ancestors were among the first settlers of the Round Mountain area east of Fayetteville, and several of his Powers ancestors were well-known stonemasons and builders in Fayetteville. A retired captain with the Fayetteville Fire Department, Marty and his wife Kendal are the parents of five daughters. Marty serves on the state board of directors for Camp Sunshine, a camp for children who have been severely burned. He is also a volunteer with Special Olympics. In his spare time, Marty enjoys hunting, fishing, and canoeing. Contact Marty.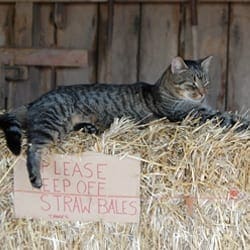 Mr. T
Ambassador
Mr. T is responsible for patrolling the museum grounds, greeting visitors, assisting the museum staff with opening and closing chores, climbing trees, and taking naps. Mostly taking naps. In his spare time, he enjoys lounging on the picnic table, concocting ways to manipulate humans, and eating an occasional catnip treat. Mr. T's favorite books include Old Possum's Practical Book of Cats by T. S. Eliot and The Lion in the Living Room by Abigail Tucker. Contact Mr. T.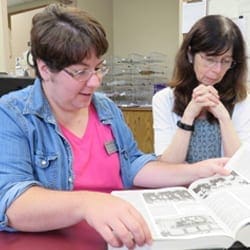 Rachel Whitaker
Research Specialist
Rachel grew up in Highfill, Arkansas, and attended school in nearby Gentry until she began homeschool in the seventh grade. She attended college at Northeastern State University in Tahlequah, Oklahoma. Her educational background is in history and libraries. Rachel's work in the history field has included internships at George Washington Carver National Monument in Diamond, Missouri, and the Hunter's Home in Park Hill, Oklahoma. She also spent time among the Kiowa tribe in southwestern Oklahoma, working on a project to collect animal tales. Rachel is currently a history instructor at Connors State College in Muskogee, Oklahoma. She spends her limited spare time outside or reading something not assigned by her professors. Contact Rachel.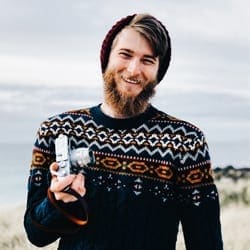 Bo Williams
Photographer/Digitization Manager
Originally from Pennsylvania, Bo recently moved to Arkansas to further utilize his talents and skills in analog photography. As a freelance photographer and graphic designer by trade, he lived and worked for a time in Edinburgh, Scotland, where he promoted the art of analog photography through personal exploration and local workshops. He's a bit of a techie, but really only when it concerns cameras and other film equipment. Besides being a full-time artist, he also enjoys hiking, canoeing, and horseback riding with his wife. Contact Bo.