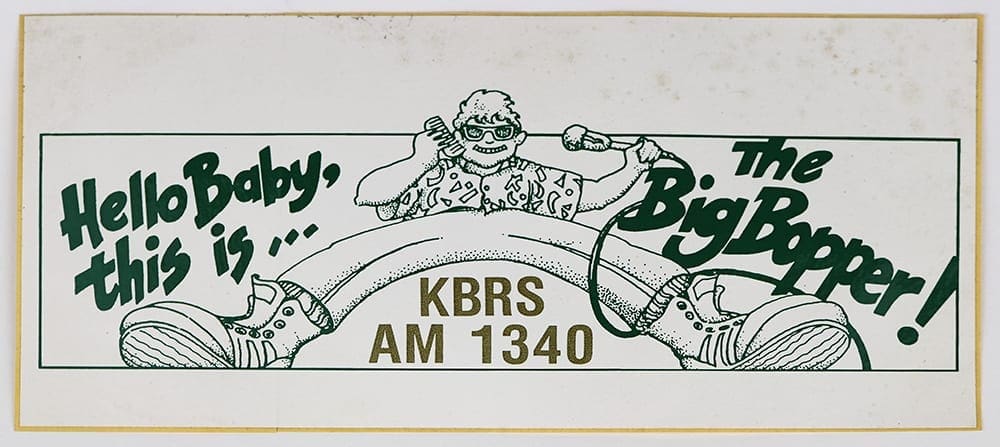 Donated by Sharon McGuire
Springdale's first radio station, KBRS AM 1340, began broadcasting In September 1949. The station was brought to Springdale by Donald W. Reynolds, founder, president, and chief executive officer of the Donrey Media Group. The last three call letters of KBRS were chosen for Bentonville, Rogers, and Springdale, towns in Northwest Arkansas that did not have a radio station. Through the years, KBRS was active participant in the community and sponsored many fundraisers, including a "Pie Auction of the Air" to benefit projects organized by the Springdale Fire Department and local civil defense organizations. KBRS ceased operations in Springdale sometime in the 1990s.
Perhaps "Big Bopper" on the sticker refers to Jiles Perry "J. P." Richardson Jr., the singer known as the "Big Bopper." Richardson was best known for his songs "Chantilly Lace" and "White Lightning." He was also a disc jockey. Shortly after midnight on February 3, 1959, Richardson, along with fellow performers Ritchie Valens and Buddy Holly, boarded a charter plane in Clear Lake, Iowa, bound for the next stop on their "Winter Dance Party" tour. Around 12:55 a.m. pilot Roger Peterson received clearance from the tower and took off, only to crash about five miles outside of Mason City, Iowa, killing everyone on board. The tragedy has become known as "The Day the Music Died," following a reference in Don McLean's 1971 hit song, "American Pie."
It is also possible that the bumper sticker is a nod to 1960s KBRS disc jockey Dale Forbes, who was also known as the "Round Mound of Sound" and the "Watermelon Man." Forbes went on to work for both the Springdale and Fayetteville police departments. He also played bass guitar and trumpet for The Rogues, a local rock-and-roll band.